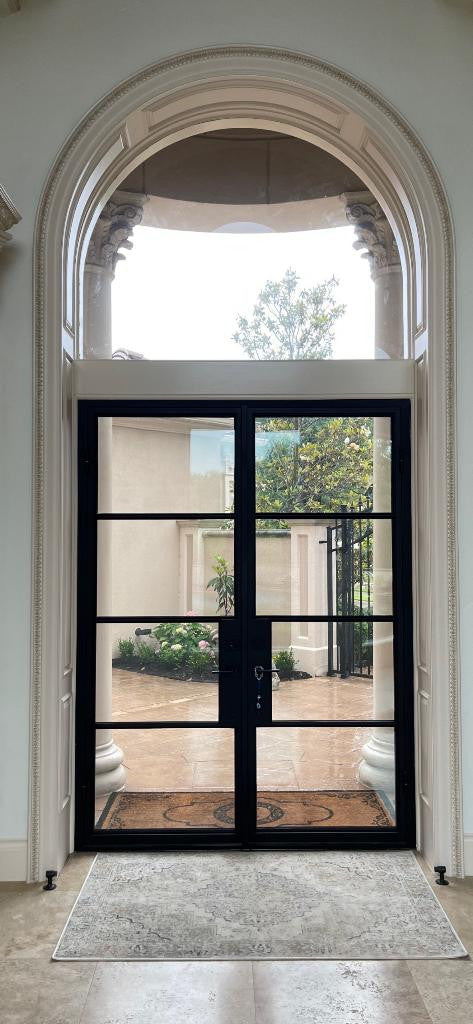 6 ft. x 8 ft. French Exterior Wrought Iron Prehung Door
Sale price
$4,395.00
Regular price
$5,933.00
Estimated Delivery:Oct 31 - Nov 04

Volume Discount: On orders over $10,000
Product Description
The French exterior wrought iron entry door with clear glass is a high-quality, durable door designed to enhance the aesthetics and functionality of your home. Constructed from 14 gauge iron, this door is built to withstand the test of time.
The door features an in-swing design, allowing it to open into the interior of the house. The dual pane clear glass panels contribute to the door's modern look and allow natural light to brighten your living space.
For optimal insulation, the door is fully insulated with spray foam. This insulation helps to regulate temperature and reduce energy loss, making your home more energy-efficient. Additionally, the insulation prevents the door from rotting or warping over time, ensuring its long-lasting performance.
The door comes with a one-piece continuous 2x6 frame, which provides structural integrity and stability. The frame is designed to fit into a 2x6 or 2x4 framed house, offering flexibility in installation.
With a thickness of 2 inches, the door is solid and sturdy, providing security and sound insulation. The integrated threshold in the frame ensures a seamless transition from the exterior to the interior, enhancing both functionality and aesthetics.
The total overall dimensions of the door, including the frame, are 74.5 inches in width and 98 inches in height. This generous size provides an impressive entrance to your home and allows for easy passage of furniture and other large items.
Both doors of the double door system are operational, but only one door is equipped with a double bore for the door handle. This configuration offers convenience while maintaining the sleek appearance of the doors.
To obtain this door, you can visit our door showroom located in Dallas, TX. There, you can see the door in person and make arrangements for pickup.
6 ft. x 8 ft. French Exterior Wrought Iron Prehung Door
Material: 14 gauge iron
Design: In-swing
Glass: Dual pane clear glass
Frame: 2x6 continuous jamb
Door Thickness: 2 inches
Insulation: Spray foam insulated
Durability: Will not rot or warp
Frame: One piece with fully integrated threshold
Overall Dimensions (including frame): 74.5 in x 98 in
Door Operation: Both doors open, with one primary door having the door handle
---