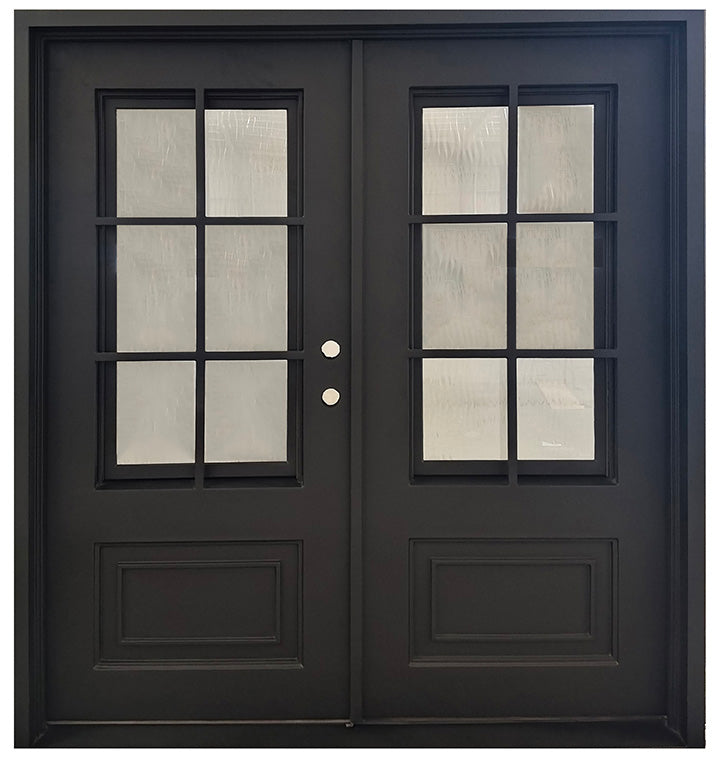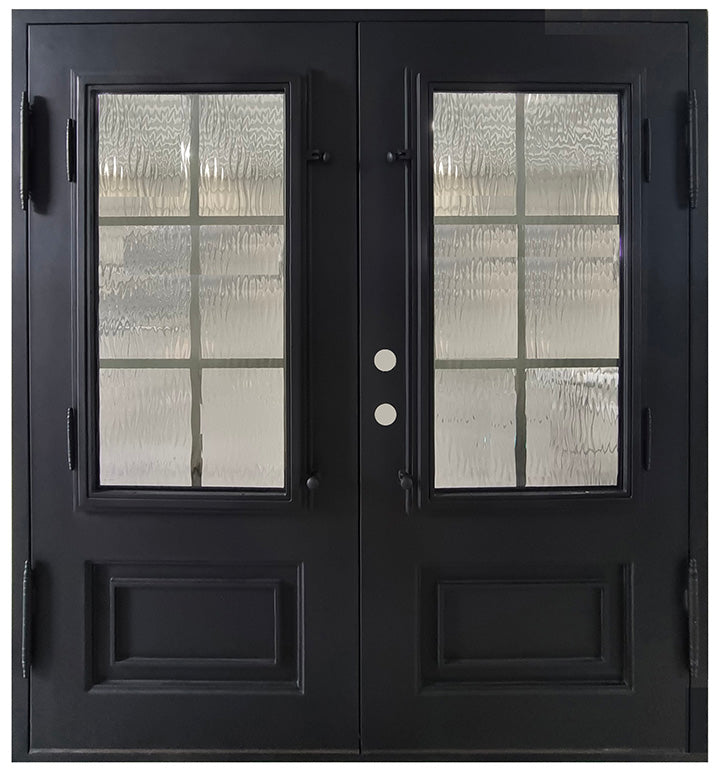 6 ft. x 6 ft. 8 in. 6 Lite Wrought Iron Prehung Front Door
Sale price
$3,995.00
Regular price
$5,393.00
Estimated Delivery:Oct 21 - Oct 25

Volume Discount: On orders over $10,000
Product Description
The 6/0x6/8 6 Lite Wrought Iron Prehung Front Door is a high-quality, heavy-duty double front door constructed from durable 14 gauge iron. It is designed to provide security, insulation, and aesthetic appeal for residential or commercial applications.
The door is prehung, meaning it comes with a one-piece 2x6 frame that facilitates easy installation. The frame is suitable for both 2x4 and 2x6 construction, providing flexibility in installation options.
The front door features an in-swing design, allowing it to open inward. This design is preferred for maximizing space efficiency and ensuring a secure closure.
The door is equipped with a double bore, enabling the installation of a door handle on one side. The other side opens for ventilation and easy cleaning, thanks to the glass panel incorporated into the door. The glass is dual pane, providing additional insulation and noise reduction properties.
With the frame included, the total overall dimensions of the door measure 74.5" x 81.5". The door itself is 2 inches thick, contributing to its sturdiness and durability.
To enhance insulation, the door and frame are spray foam insulated. This insulation helps to regulate temperature and improve energy efficiency.
The use of wrought iron ensures that the door will not rot or warp, offering long-lasting performance and minimal maintenance requirements.
Additionally, the door comes with a one-piece frame that includes a fully integrated threshold. The threshold provides a smooth transition from the exterior to the interior, enhancing the door's functionality and aesthetic appeal.
6/0x6/8 6 Lite Wrought Iron Prehung Front Door
Material: 14 gauge iron
Overall dimensions (with frame): 74.5" x 81.5"
Door thickness: 2 inches
Design: In-swing
Glass: Dual pane, opens for easy cleaning and ventilation
Frame: 2"x6" one-piece continuous jamb
Insulation: Spray foam insulated door and frame
Rot and warp resistance: Will not rot or warp
Door handle: Double bore for installation on one side
Installation: Suitable for 2x4 or 2x6 construction
---