3 ft. x 7 ft. Z Panel Burned Barn Door
Sale price
$269.66
Regular price
$337.00
Estimated Delivery:Oct 21 - Oct 25

Volume Discount: On orders over $10,000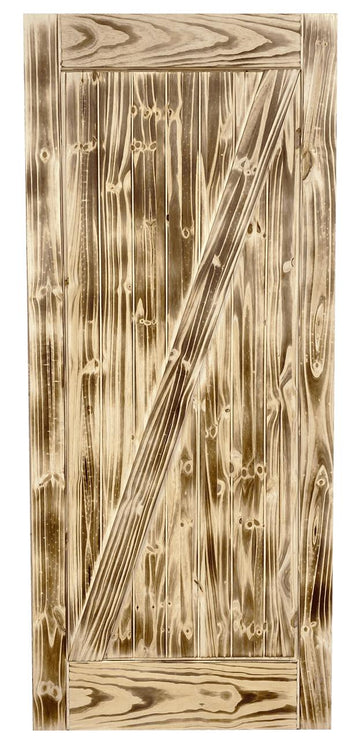 3 ft. x 7 ft. Z Panel Burned Barn Door
Sale price
$269.66
Regular price
$337.00
Product Description
The 36"x84" Z Panel Burned Barn Door is a stylish and functional door designed for installation in your home. It features a Z panel design, which adds a rustic and charming aesthetic to any space. The reversible design allows for flexibility in installation, enabling you to choose the orientation that best suits your needs.
The door is constructed with a rail cut into the bottom, allowing it to smoothly follow a track during operation. This ensures easy and seamless movement when opening and closing the door. The rail cut also contributes to the overall stability and durability of the door.
The 36"x84" Z Panel Burned Barn Door comes fully assembled, eliminating the need for complex installation procedures. Once delivered, you can promptly install it in your desired location, saving time and effort.
To match your home decor, the door can be customized with various finishes. You have the option to paint it with a color of your choice, stain it to enhance the natural wood grain, or apply a clear coat to preserve its authentic appearance. This flexibility allows you to create a personalized look that complements your interior design.
The dimensions of the door are 36" in width, 84" in height, and 1 3/8" in thickness. These measurements ensure a standard size that can fit most door frames and openings.
36"x 84" Z Panel Burned Barn Door
Product Title: 36"x84" Z Panel Burned Barn Door
Design: Z panel design
Reversible design: Can be installed with either side facing outwards
Rail cut: Bottom of the door is cut to accommodate a track for smooth movement
Assembly: Fully assembled and ready for installation
Customization options: Can be painted, stained, or clear coated to suit personal preferences
Dimensions: 36" width x 84" height x 1 3/8" thickness
Versatile fit: Designed to fit most standard door frames and openings
---