3 ft. Walnut Interior Barn Door Full
Sale price
$348.71
Regular price
$444.00
Estimated Delivery:Oct 21 - Oct 25

Volume Discount: On orders over $10,000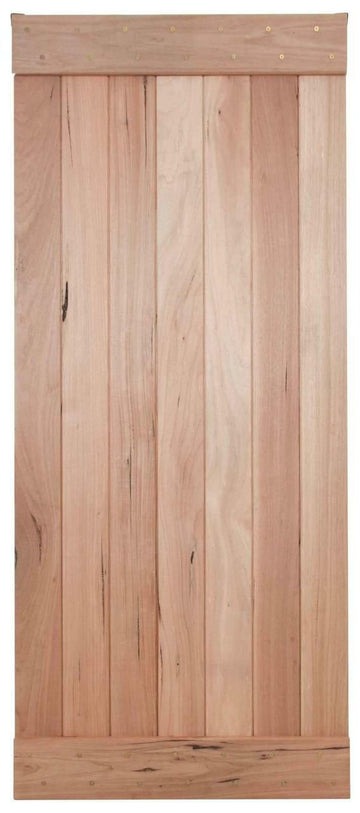 3 ft. Walnut Interior Barn Door Full
Sale price
$348.71
Regular price
$444.00
Product Description
The 36" Walnut Interior Barn Door is a fully assembled and ready-to-install door designed for residential use. It features a 7 panel design that adds a touch of elegance to any interior space. The door is constructed using high-quality walnut wood, known for its durability and attractive grain patterns.
Measuring 36" in width, 84" in height, and 7/8" in thickness, the door also includes additional 7/8" top and bottom panels. The overall dimensions of the door, including the top and bottom panels, are 36" x 84" x 7/8".
One of the key features of this barn door is its adjustable height. If required, the height of the door can be easily modified by cutting a minimum of 2 inches from the bottom. After trimming, the bottom panel, which includes a rail cut-out, can be re-attached to maintain the door's integrity and functionality.
The door is delivered in a fully assembled state, which saves time and effort during the installation process. Once installed, the door can be customized to match your personal taste and interior decor. It can be painted, stained, or clear coated, allowing you the flexibility to achieve the desired aesthetic.
36" Walnut Interior Barn Door Full
Product Title: 36" Walnut Interior Barn Door
Design: 7 Panel Design
Material: High-quality walnut wood
Fully assembled and ready for installation
Door: 36" x 84" x 7/8"
Top and Bottom Panels: 7/8" thickness each
Adjustable Height: Can be cut 2+" from the bottom
Re-attachment: Bottom panel with rail cut-out can be re-attached after cutting
Customization Options: Can be painted, stained, or clear coated
Usage: Residential
Durability: Walnut wood offers excellent durability
Aesthetic: Attractive grain patterns
Privacy and Separation: Provides privacy and separation between rooms
Easy Installation: Delivered fully assembled for convenience
---